Awards Process Overview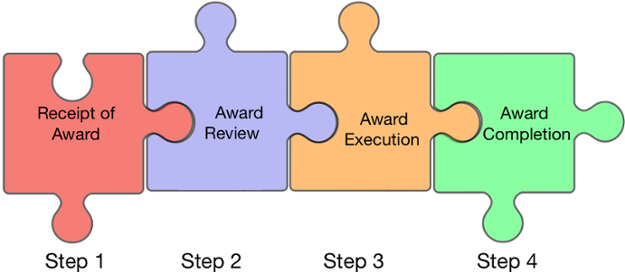 Award Overview
Before an award can be accepted by the University of New Mexico (UNM), the Office of Sponsored Projects (OSP) completes a comprehensive review of the award terms and conditions (T&Cs). All awards for sponsored activity are reviewed, negotiated, and processed by OSP in accordance with UNM policy and to ensure that T&Cs are in compliance with applicable regulations, policies, and procedures.
Receipt of award documents occurs typically as an email or as a hardcopy received via mail. In some instances, OSP will retrieve a copy of an award from a sponsor's online portal. If a Principal Investigator (PI) or Department Administrator receives an award, the award should be mailed to OSP's Awards Team at awards@unm.edu or hand-delivered to OSP's Business Office. When corresponding with OSP, all relevant documentation and any identifying information should be included.
The award will then be allocated to a member of OSP's Award Team to begin the Award Review process.
OSP will complete a brief review of the award documents to determine whether the award requires negotiation by the Contracts Team. If negotiations are required, the Awards Team will transfer to the award to the Contracts Team. Please reference the Contracts Team Process Overview. If negotiations are not needed, then the Awards Team will continue with a detailed review.
During the award review process, the Awards Team is responsible for identifying T&Cs in the award document that require review by other internal compliance offices including Conflict of Interest office (COI), Internal Review Board (IRB), Export Control, etc.
In the event the award requires an authorized signature from UNM, the Awards Team will route the award for UNM's signature and return a partially-executed copy to the sponsoring agency for countersignature. Once the award has been fully-executed, the Awards Team will process the award in Cayuse. The award is then routed to UNM's Contract & Grant Accounting office (CGA).
In the event an award does not require any authorized signatures, the Awards Team will process the award to CGA.
Please note that processing times may vary based on the complexity of an award.