Schedule your Review
To minimize unnecessary steps please follow the steps below. Additional information about the proposal process can be found at Defining your Opportunity and Proposal Review - The UNM Way.
Solicited Opportunities
If you have a Solicited Opportunity, please proceed with using the Proposal Scheduling System. Solicited Opportunities are requests from sponsors for submission of a proposal according to the requirements outlined in the sponsor-issued solicitation. These include:
Federal and Non-federal Comprehensive Review (Proposal developed in response to sponsor's solicitation)
Letter of intent, Pre-proposal, or Whitepapers (Preliminary communication submitted to sponsor in response to sponsor's solicitation)
Schedule Solicited Proposal Review:
Click Here!
While scheduling your appointment, please be prepared to identify specific solicitation requirements on the appointment request form.
*To schedule a proposal review appointment for the same day as the sponsor-imposed deadline, you will need to request an Essential Component Review by contacting ospappointment@unm.edu
Please note: For Essential Component Reviews, the PI is solely responsible for proposal materials outside of the OSP reviewed items. Information on Comprehensive and Essential Component Reviews can be found on our website. Please visit the OSP's Proposal Review page.
Unsolicited Opportunities
Unsolicited Opportunities are non-competitive prospects that might result from a sponsor engaging a P.I. or vice versa for completion of a specific scope of work, but where no formal solicitation has been published for the request of proposals.
If you have an Unsolicited opportunity, submit a form through the button below. Please contact ospappointment@unm.edu with any questions.
Schedule Unsolicited Opportunity Proposal Review:
Click Here!
Please see OSP's webpage, Defining your Opportunity, to help make the determination between solicited and unsolicited opportunities.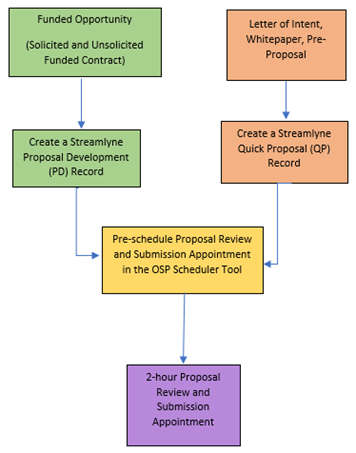 *For general scheduling questions please contact ospappointment@unm.edu